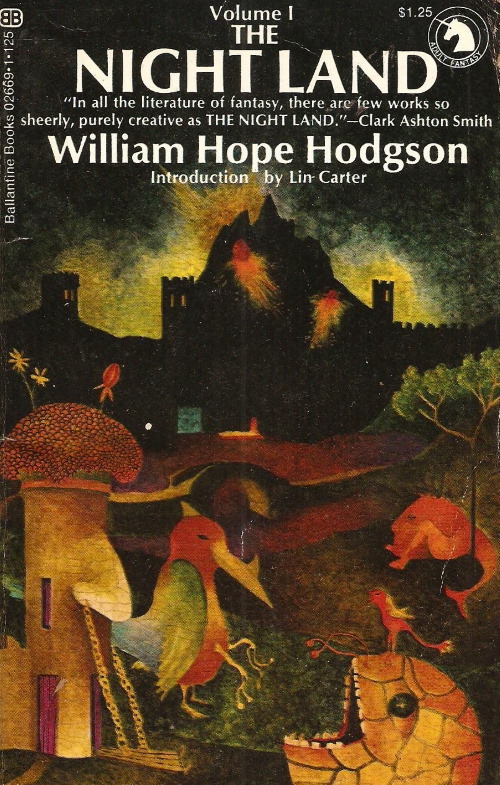 The Night Land is an astonishingly original, imaginative, and bizarre piece of fiction — one of the most memorable books I've ever read. And yet, so powerful are its idiosyncrasies that I would hesitate to recommend it to anyone.
Hodgson was among the progenitors of what was called for some time "Weird fiction," an ur-genre which translated to modern parlance comprises horror, science fiction, fantasy, and others not common at the time, though with serious literary pretensions, to differentiate it from the lurid and numerous stories and novellas appearing in pulp magazines.
He is best known today for a few of his stories of nautical horror ("The Voice in the Dark" and "The Derelict" for instance) and the genre-flouting The House on the Borderlands, whose divagations in deep time and space place it in a lonely hinterland halfway between supernatural horror and a long-form narrative of a DMT episode.
The Night Land inhabits a similarly unusual conceptual Venn diagram: A three-way combination of historical epic, hard sci-fi, and travel diary. The final product is more than the sum of its parts, and deserves to be numbered among the founding documents of science fiction — yet Hodgson's styling and narrative choices are so frustrating that I sometimes wished I could imitate the protagonist and project my own soul forward in time so as to escape his unceasing exposition.
The book begins with a framing story of the protagonist, who remains nameless throughout the hundreds of pages. He is a strong young man of the 17th century who falls in love with a woman who, he finds, experiences eerily similar dreams of a strange world where it is always night. Soon the narrator finds himself in that world, laboriously explaining the apparent coexistence of his soul and mind in both worlds with the passion of one describing a religious experience.
Continue reading ☞